Iván Resendiz Gutierrez
Clients turn to my thoughtful, thorough, and adaptive approach to cases and problems, compelling advocacy, and persuasive writing as they tackle high-profile litigation and navigate knotty employment issues and intricate laws and regulations.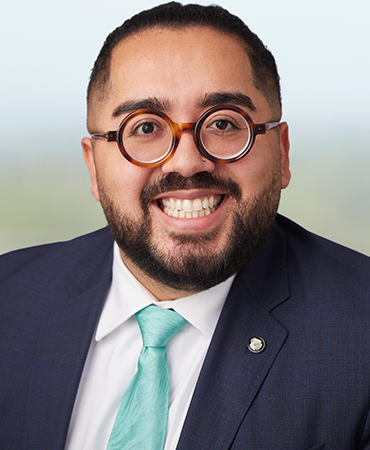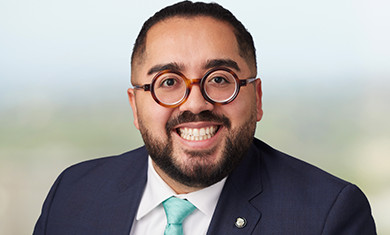 About Iván
Iván (pronounced "ee-v-AA-n") Resendiz Gutierrez is a litigation attorney serving the employment and appellate needs of public and private clients, with an emphasis on supporting K-12 and higher education institutions, energy companies, and online marketplaces (or e-commerce companies). Iván is known for handling complex cases and situations, providing practical advice, and finding creative solutions for clients from across the U.S. from such diverse industries as education and energy. A former judicial clerk and accomplished appellate practitioner in Oregon and federal courts, Iván has handled oral argument to the U.S. Court of Appeals for the Ninth Circuit and the Oregon Court of Appeals.
Iván advises private and public organizations on knotty issues, including compliance with federal, state, and local disability, discrimination, civil rights, fair housing, and public accommodations laws, including Title III of the Americans with Disabilities Act (ADA), the Fair Housing Act (FHA), and Title II of the Civil Rights Acts of 1964, and employment-related issues such as discrimination, harassment, retaliation, novel coronavirus disease 2019 (COVID-19)—including vaccine and face covering laws and regulations—and wage and hour compliance. Iván also regularly helps higher education institutions navigate the federal and state antitrust laws and works with them to establish safeguards to minimize the risk of antitrust scrutiny.
Iván defends and represents public and private organizations on a wide range of employment and commercial matters before state and federal courts and administrative agencies, including appeals, breaches of contract, class actions, employee benefits litigation, employment discrimination, harassment, retaliation, wrongful termination (as well as other tort claims), and professional negligence.
Iván is a regular speaker and author on employment law, diversity, and litigation topics. He has been recognized by national, state, and local organizations, including receiving the Hispanic National Bar Association's "Top Lawyers Under 40" Award, the University of Oregon School of Law's "Outstanding Young Alumni Award," and the Oregon State Bar President's Diversity & Inclusion Award; being named to the Portland Business Journal's Forty Under 40 list in 2021, being listed in Oregon Super Lawyers—Rising Stars, and included in Best Lawyers: Ones to Watch.
Before joining Miller Nash, Iván clerked for the Honorable Lynn R. Nakamoto at the Supreme Court of Oregon and the Oregon Court of Appeals.
Show More
Show Less
Representative Experience
Activities
Professional

Plus
Oregon Hispanic Bar Association

Past President, 2018-2019
Board Member, 2015-2019
Advocacy Committee, Member
CLE committee, Member

Oregon Minority Lawyers Association

Co-chair, 2020-present
Board Member, 2016-present

Oregon State Bar

Appellate Practice Section - Executive Committee, Member, 2018-2021
Labor & Employment Section, Member
Diversity Action Plan Auxiliary Committee, Member, 2018-2020

Legal Aid Services of Oregon (LASO) and Oregon Law Center (OLC)

LASO, Board of Directors, 2018-present; Vice Chair, 2020-2021; President, 2021-present
OLC, Board of Directors, Executive Committee, Member-at-Large, 2020-present

Multnomah Bar Association, Member

Young Lawyers Section Membership Committee, Member, 2016-2018

Oregon Diversity Legal Job Fair, Steering Committee, Member, 2021
Oregon Asian Pacific American Bar Association, Member
Oregon Chapter of the National Bar Association, Member
Oregon Filipino American Lawyers Association, Member
Oregon Judicial Diversity Coalition, Member
Oregon Women Lawyers, Member
Owen M. Panner American Inn of Court, Associate
American Bar Association, Member

Litigation Trial Practice Committee, Member, 2019-present

DRI (Defense Research Institute) - The Voice of the Defense Bar, Member
Federal Bar Association, Member

Oregon Chapter, Board of Directors
Young Lawyers Division, Member
Diversity & Inclusion Committee, Oregon Chapter, Co-chair, 2020-present

Hispanic National Bar Association, Member

Law Student Division, Regional Vice President, 2014-2015

University of Oregon School of Law

Moot Court Coach, 2020-2021
Moot Court Coach, 2015-2016

Willamette University College of Law, Mentor
Civic

Plus
The Freshwater Trust, Headwaters Council, Member
Hispanic Metropolitan Chamber, Member
Leadership Portland, Portland Business Alliance, Class of 2022
Recognition

Named to Portland Business Journal's Forty Under 40 list, 2021
Received the "Outstanding Young Alumni Award" from the University of Oregon School of Law, 2020
Selected for inclusion in Best Lawyers: Ones to Watch (Portland, OR)

Appellate Practice, 2021-present
Commercial Litigation, 2021-present
Education Law, 2021-present
Labor and Employment Law–Management, 2021-present

Received a "Top Lawyers Under 40 Award" from the Hispanic National Bar Association, 2019
Selected for inclusion as an Oregon Super Lawyer—Rising Star, 2018-present

Received the Oregon State Bar Appellate Practice Section's Certificate of Appreciation for service as a volunteer in the Oregon Appellate Pro Bono Program, 2018
Honored with the Oregon State Bar President's Diversity & Inclusion Award, 2017
Recognized as an "Outstanding Mentor," Willamette University College of Law, 2016-2017
Received Miller Nash Graham & Dunn's Clifford N. Carlsen Jr. Award for Outstanding Pro Bono Achievement, 2016
Insights from Iván
"Employer Panel," Oregon State Bar, Opportunities for Law in Oregon, Annual Employment Retreat (Jan. 2023)
"All Aboard the HR Express: A Tour of Federal, State, & Labor Legal Updates," Miller Nash, Employment Law Seminar (Oct. 2022)
"Art of the Possible: Looking Within to Find Your Path," University of Oregon School of Law, panelist (Oct. 2022)
"Bringing New Litigators into the Profession: A Panel Discussion on Associate Mentoring," Oregon State Bar, Business Litigation Section, panelist (Oct. 2022)
"Annual Labor & Employment Case Law Update," Oregon State Bar, Labor & Employment Law Section Annual Conference, panelist (Oct. 2022)
"The Racial and Financial Implications of Climate Disasters and Natural Hazards," American Bar Association, 2022 State & Local Government, Civil Rights & Social Justice, and Young Lawyers Division Fall Conference, panelist (Sept. 2022)
"Modern Voting Rights Landscape," Oregon Women Lawyers, Fall CLE, moderator (Sept. 2022)
"Finding Your Pathway Through Law School," Oregon State Bar, Opportunities for Law in Oregon, 2022 Orientation, moderator (Aug. 2022)
"Prelaw Undergraduate Scholars Program," University of Oregon School of Law, panelist (June 2022)
"Viral Litigation: How COVID-19 has Impacted Litigation Trends Across Various Industries," Hispanic National Bar Association, Corporate Counsel Conference (Mar. 2022)
"Career Advice from Legal Experts," Oregon Diversity Legal Job Fair, panelist (Mar. 2022)
"Disability and Religious Accommodations Update," Miller Nash, The Latest COVID-19 Guidance for Employers: Vaccine Mandates and Accommodations Webinar (Feb. 2022)
"Litigation and Mandate Update," Miller Nash, The Latest COVID-19 Guidance for Employers: Vaccine Mandates and Accommodations Webinar (Feb. 2022)
"Private Practice and the Business of Law," University of Oregon School of Law, presentation to 1L class, panelist (Jan. 2022)
"Clarifying Disability & Religious Accommodations," Miller Nash, Employment Law Seminar (Dec. 2021)

"Setting Boundaries and Avoiding Burnout," Oregon Affinity Bar Association, Roundtable Series for New Lawyers and Law Students (Oct. 2021)
"You Are Now One of Many," Oregon State Bar, Opportunities for Law in Oregon, 2021 Orientation (Aug. 2021)
"The Good, the Bad, and the Ugly: 11th Annual Review of Recent Oregon Public Sector Labor Cases," Oregon Public Employer Labor Relations Association, webinar (June 2021)
"Mask Mandates & Safety in the Workplace—What You Need to Know as We Reopen," The Nonprofit Association of Oregon (June 2021)
"Building an Appellate Practice and a Diverse Appellate Bar," Oregon State Bar, Appellate Practice Section CLE, moderator (Apr. 2021)
"What Employers Need to Know about COVID-19 Vaccination Requirements," Better Business Bureau, Great West + Pacific region (Mar. 2021)
"What Nonprofit Employers Need To Know About COVID-19 Vaccination Requirements," Nonprofit Association of Oregon (Feb. 2021)
"Private Practice and the Business of Law," University of Oregon School of Law, presentation to 1L class, panelist (Feb. 2021)
"Oregon Diversity Legal Job Fair," Oregon Diversity Legal Job Fair, promotional video (Jan. 2021)
"Measure Twice, Cut Once: Blueprint for Constructive Diversity, Equity, and Inclusion Initiatives," Miller Nash Graham & Dunn, Employment Law Seminar (Dec. 2020)

"Recognizing Design Possibilities and Challenges: Equity Issues in the Remote Environment," Miller Nash Graham & Dunn, Employment Law Seminar (Dec. 2020)

"Siting the Foundation: Remote Workers in Different States," Miller Nash Graham & Dunn, Employment Law Seminar (Dec. 2020)
"What Is the Latinx Vote?" Voting Now: Turning Rights into Reality, podcast, interviewer (Dec. 2020)
"Cascade Women Lawyers: Allyship, Diversity, & Attorney Retention," cohosted with Deschutes County Bar Association, CLE, webinar (Nov. 2020)
"Legislative Impacts/Updates: A Panel Review," Oregon Public Employer Labor Relations Association, Annual Training Conference, panelist (Nov. 2020)
"Why Representation Matters: Albert Lee," Voting Now: Turning Rights into Reality, podcast (Nov. 2020)
"Bar Leader Room 1: Appeals, Bankruptcy, Business Transaction, Consumer Law, Criminal Law, Employment Law, Estate Planning," Oregon State Bar PLF, Learning the Ropes 2020, virtual conference, networking breakout room (Oct. 2020)
"Addressing Harassment in Light of the Oregon Workplace Fairness Act and Commitments to Racial Justice," Oregon School Personnel Association, 2020 Virtual Fall Summit (Oct. 2020)
"Case Law Update," Oregon State Bar, Labor and Employment Law Section, Annual Conference (Oct. 2020)
"A Guide on How You Can Support Marginalized Communities (How to Be An Ally)," King County Bar Association, Business Law Section (Oct. 2020)
"Networking in a Pandemic," South Asian Bar Association (SABA) of Oregon, Oregon Law Student Zoom Check-In (Sep. 2020)
"Oregon Hispanic Bar Association: Law Practice Outside of Portland, Salem, and Eugene," Oregon Law Student Zoom Check-Ins, moderator (Aug. 2020)
"Orientation on Professionalism for First-Year Students," University of Oregon School of Law Orientation (Aug. 2020)
"Affinity Group Introduction–Oregon Minority Lawyers Association," Oregon State Bar, Opportunities for Law in Oregon, 2020 Orientation (Aug. 2020)
"A Guide on How You Can Support Marginalized Communities (How to Be An Ally)," SAIF Quarterly CLE (Aug. 2020)
"Addressing Harassment in Light of the Oregon Workplace Fairness Act and Commitments to Racial Justice," NW EEO/Affirmative Action Association, webinar (July 2020)
"Immerse 2020–A Benefit for The Freshwater Trust," The Freshwater Trust, emcee (Mar. 2020)
"State & Federal Judicial Clerkships," Oregon State Bar, 23rd Annual OLIO Employment Retreat (Jan. 2020)
"Raising the Nautical Flag and Avoiding Rough Waters: Identifying and Managing HR Risks," Miller Nash Graham & Dunn, Employment Law Seminar (Oct. 2019)
"Breakfast Briefing: Paid Family Leave Law," Oregon State Bar Labor and Employment Section, CLE (Sept. 2019)
"Orientation Convocation Ceremony," University of Oregon School of Law (Aug. 2019)
"The Logistics of Reading and Interpreting Insurance Policies," Multnomah Bar Association (Apr. 2019)
"Applying the Rules of Evidence: What Every Attorney Needs to Know," National Business Institute (Dec. 2018)
"Practicing Professionalism," Lewis & Clark Law School Student Bar Association (Feb. 2018)
"The Road from Summer Job to Long Term Career," Oregon State Bar Opportunities for Law in Oregon, Employment Retreat (Jan. 2018)
"Road to the Bench - An Evening with Our Distinguished Judges," Oregon Hispanic Bar Association, "Evening With" Series, moderator (Oct. 2017)
"Lawyer Support Services Panel," Oregon State Bar Opportunities for Law in Oregon, 2017 Orientation, panelist (Aug. 2017)
"Importance of Networking," Oregon State Bar Opportunities for Law in Oregon, 2017 Orientation (Aug. 2017)