This piece was co-written by Summer Associate Riana Morales.

For a printable PDF version of this article, please click here.
The Coronavirus Aid, Relief, and Economic Security (CARES) Act (Public Law 116-136) benefits, including the $600 federal weekly unemployment insurance (UI) benefit (Federal Pandemic Unemployment Compensation or FPUC), expired on July 31, 2020. Since then, several U.S. Senators have been advocating for the passage of a new UI benefits and funding act—namely, the Health, Economic Assistance, Liability protection and Schools (HEALS) Act—to continue providing relief to businesses, families, and schools affected by the ongoing novel coronavirus disease 2019 (COVID-19 or SARS-CoV-2) pandemic.1
This alert provides a detailed summary of what we currently know and do not know about the UI benefits under the recent Presidential Memorandum.
The August 8, 2020, Presidential Memorandum
Because Congress is currently in a stalemate over terms of a new stimulus package, President Donald J. Trump took unilateral action on some of the issues affecting Americans, including an extension of UI benefits. On August 8, 2020, the White House issued a Presidential Memorandum titled "Memorandum on Authorizing the Other Needs Assistance Program for Major Disaster Declarations Related to Coronavirus Disease 2019
The Presidential Memorandum does the following:

Directs the Federal Emergency Management Agency (FEMA) to assist in providing benefits from the U.S. Department of Homeland Security's Disaster Relief Fund (DRF) and calls on states to use their allocation under the Coronavirus Relief Fund (CRF), provided under Title V of the CARES Act, to bring continued financial relief to Americans who are suffering from unemployment due to the COVID-19 outbreak;
Directs "up to $44 billion from the DRF at the statutorily mandated 75 percent Federal cost share be made available for lost wages assistance to eligible claimants, to supplement state expenditures in providing these payments. At least $25 billion of total DRF balances will be set aside to support ongoing disaster response and recovery efforts and potential 2020 major disaster costs."
Calls on states to use amounts allocated to them out of the CRF, or other State funding, to provide "temporary enhanced financial support" to those whose "jobs or wages have been adversely affected by COVID-19." These funds, including those currently used to support state UI programs, may be applied as the state's cost share with federal DRF funds.
In terms of timing of the payments, according to the Presidential Memorandum, the $400 weekly amount (referred to as "Lost Wages Assistance" (LWA)) would start for the week ending on August 1, 2020, and will last until December 27, 2020.
When asked at a White House press briefing on Monday, August 10, 2020, when UI benefits recipients would receive the $400, Press Secretary Kayleigh McEnany said, "We hope to see it quickly, and close to immediately." She added that the speed of getting the funds to those eligible will depend on the states because it is the states who will have to kick in $100. That same day, Treasury Secretary Steven Mnuchin said during a second White House press briefing that most of the states would be able to start the $400 unemployment benefits "within a week or two."
Federal Guidance Regarding the Presidential Memorandum
On August 13, 2020, FEMA issued some detailed guidance for the Presidential Memorandum. The FEMA guidance provides:

Process Overview
A state may request assistance by submitting an application for a grant award to administer the supplemental payments for lost wages by September 10, 2020.
In its request, the state must indicate selection of a $300 or $400 weekly supplemental lost wages payment to eligible individuals.
On approval, FEMA will obligate funds to the state. The state will then administer the LWA payments in conjunction with its respective unemployment office. States may provide supplemental lost wages payments to eligible individuals retroactively, beginning with the week of unemployment ending August 1, 2020, through weeks of employment ending before December 27, 2020, contingent on sufficient balances remaining in the DRF.
FEMA will not administer the LWA payments directly to claimants; instead, LWA payments must be administered and delivered by states under grant agreements with FEMA, in conjunction with the state's UI system. Because states are administering the grants, if a claimant is denied an LWA payment, states will use their existing policies and processes for adjudicating appeals from individuals denied UI benefits. States are also responsible for recovering improper LWA payments from claimants.
Eligibility
A state may provide LWA payments from the week of unemployment ending August 1, 2020, to "eligible claimants" who:

provide self-certification that the claimant is unemployed or partially unemployed due to disruptions caused by COVID-19; and
receive, for the week of unemployment with respect to which LWA is sought, at least $100 per week of regular UI or any of the following UI programs:

Unemployment compensation, including Unemployment Compensation for Federal Employees and Unemployment Compensation for Ex‑Service members, under 5 U.S.C. § 8501;
Pandemic Emergency Unemployment Compensation (PEUC), under Section 2107 of the CARES Act;
Pandemic Unemployment Assistance (PUA), under Section 2102 of the CARES Act;
Extended Benefits, under 262 U.S.C. § 3304;
Short-Time Compensation (STC), under 26 U.S.C. § 3306(v);
Trade Readjustment Allowance (TRA), under 19 U.S.C. §§ 2291-2293; and
Payments under the Self-Employment Assistant (SEA) program, under 26 U.S.C. § 3306(t).

States will need to develop a self-certification process in accordance with FEMA instructions for claimants to certify weekly that they are unemployed or partially unemployed due to disruptions caused by COVID-19.
LWA is not payable to individuals collecting Disaster Unemployment Assistance (DUA).
LWA Amount
As explained by FEMA and the U.S. Department of Labor in its Unemployment Insurance Program Letter No. 27-20, there appears to be two LWA payment options:

States may provide eligible claimants LWA of up to $400, composed of a $300 federal contribution from the DRF, in addition to the claimant's underlying UI benefit. LWA is funded using a 75 percent federal cost share and a 25 percent state match. If states wish to provide this maximum $400 benefit to their claimants, they may fund $100 out of amounts allocated to them out of the CRF or other state funding to cover the 25 percent state match.
Alternatively, states may count funds that are already used to provide regular state UI payments toward the state match. If they choose to do so, eligible claimants will receive a LWA payment of $300 from the Federal Government in addition to their weekly benefit amount. In this case, the state must demonstrate at the aggregate level that the total of its state-funded unemployment benefits to claimants receiving the lost wages supplement were at least 25 percent of the total lost wages assistance benefits paid in conjunction with all of the unemployment programs listed above.
Termination Date
As noted, LWA is payable to eligible claimants beginning with weeks of unemployment ending on or after August 1, 2020, through weeks of unemployment ending no later than December 27, 2020.
The LWA program may terminate earlier than December 27, 2020, if:
FEMA expends the $44 billion from the DRF account designed by the President for the LWA program;
The total balance of the DRF account decreases to $25 billion; or
Legislation is enacted that provides, due to the COVID-19 outbreak, supplemental federal UI compensation, or similar compensation, for unemployed or partially employed individuals.
According to the U.S. House of Representatives Committee on Ways and Means:
"FEMA expects this additional $44 billion from the Disaster Relief Fund to last about 5-6 weeks, depending on how many states participate."
"To put this in perspective, in just the month of July, the extra $600/week cost $80 billion and has cost nearly $254 billion since it started in April. More than 30 million people are currently claiming UI benefits."
Status of FEMA Grants
As of August 15, 2020, FEMA Administrator Pete Gaynor has approved the states of Arizona, Iowa, Louisiana, and New Mexico for the first FEMA grants under the Presidential Memorandum.
Several states, including Ohio, are expected to offer only the additional weekly $300 from the federal government, despite concerns, including from Pennsylvania Governor Tom Wolf, that the amount will not cover many people's cost of living.
As of the date of this article, at least one state has declined the federal UI benefits aid provided by the Presidential Memorandum, South Dakota. We will see whether other states will follow South Dakota, Ohio, or Arizona and others.
Oregon Employment Department and Washington State Security Department Guidance Regarding the Presidential Memorandum
Oregon
On August 24, 2020, the Oregon Employment Department (OED) issued an update on Twitter regarding the Presidential Memorandum, stating that the state had applied for the LWA program: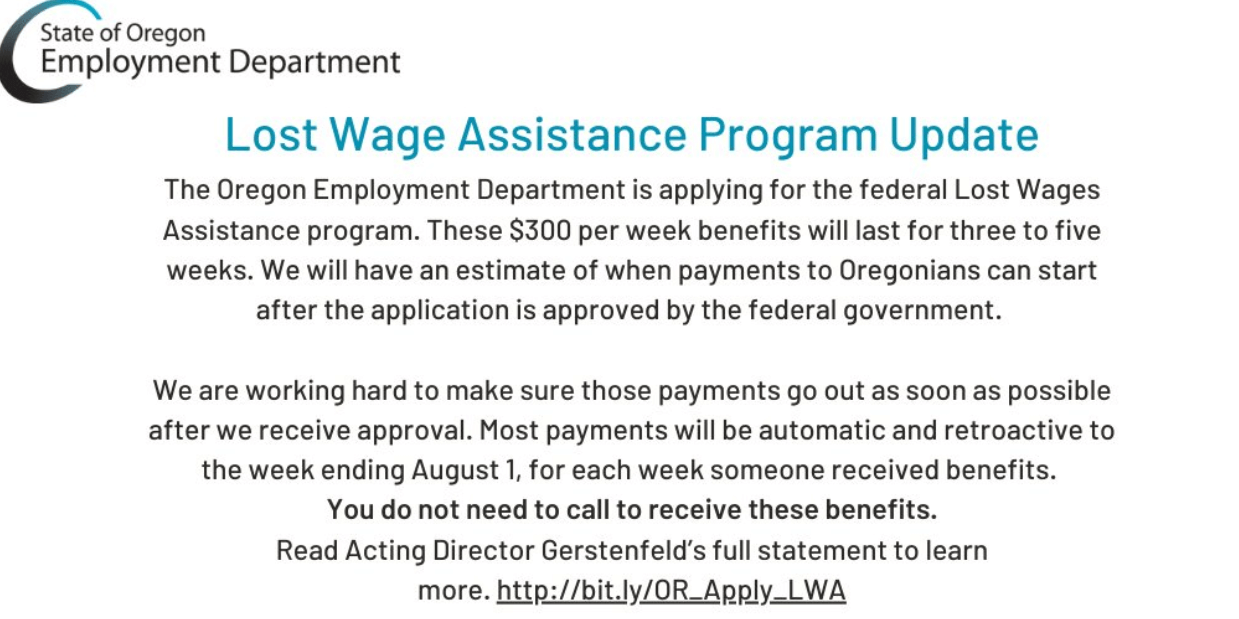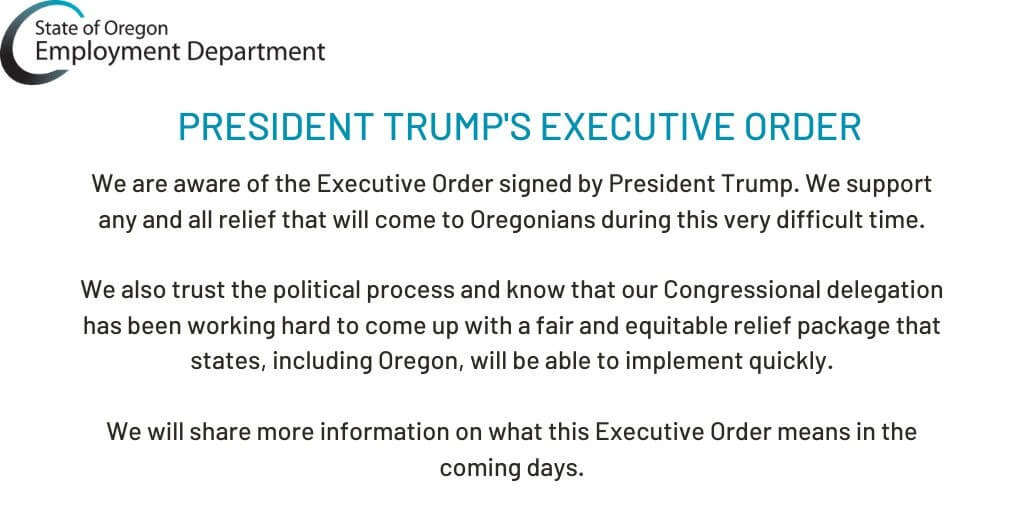 The same day, OED's Acting Director issued a statement, noting, among other things, that:

"The Employment Department is working quickly to move forward with this temporary measure. The agency will have an estimate of when payments to Oregonians could start after the application is approved by the federal government."
"Once payments can begin, they will be given automatically and retroactively, going back to the week ending August 1, for each week someone received other unemployment benefits."
"For some people, no further information will be needed; federal requirements mean the Employment Department will have to get a certification from some others."
"The Employment Department will share more information about the timing and process as it becomes available."
Washington
On August 20, 2020, the Washington State Employment Security Department (ESD) announced that it would apply for the LWA program. And on August 24, 2020, the ESD issued an update on Twitter regarding its LWA application, stating that the state's LWA program application had been approved: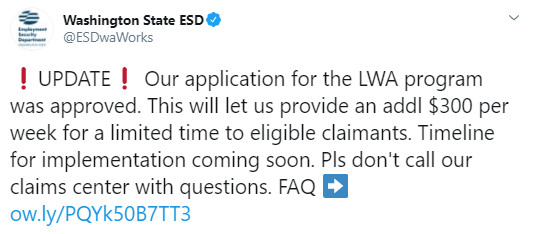 The same day, ESD issued an FAQ on the LWA program, noting, among other things:

"How much money will a person get each week? Individuals who are eligible for LWA will receive an additional $300 on top of their weekly unemployment benefits. The state is not providing an additional $100 on top of this amount."
"For how many weeks will eligible people receive the money? According to current guidance from the federal government, those who are eligible will receive the $300 per week benefit for three weeks. Payments will start once our application to FEMA is approved and we implement the program."
"When will eligible individuals receive the LWA benefit? We don't know yet. ESD is working as quickly as possible to implement this temporary measure and distribute payments to Washingtonians once our application is approved."
"Do claimants have to receive more than $100 in weekly unemployment benefits in order to receive the extra benefits? No. The $100 requirement is specific to weekly benefit amounts. Since Washington's minimum weekly benefit amount is higher than the $100 required by LWA, this is not a concern for Washington claimants. As long as claimants are eligible to receive at least $1 in benefits, they can receive LWA. For example, individuals who receive less than $100 each week because money is being deducted from their weekly benefit payment will still be eligible for the entire $300."
Stay Tuned
Although the issuance of the Presidential Memorandum was a nice headline, based on the recent federal and state guidance (or lack of), it is unlikely that individuals will be receiving the $400 LWA payment anytime soon. In addition, there remains a lot of ambiguity and uncertainty regarding the Presidential Memorandum's implementation and administration, as well as its ability to survive legal challenges.
Like OED and ESD, when we have additional information, we will update our COVID-19 guidance—COVID-19 Coverage, Resources, and Continuing Operations. Please do not hesitate to contact our COVID-19 Resource Team if you or your organization have questions regarding how the latest executive actions impact you or your organization's operations.
---
1 The proposed HEALS Act would have continued to provide many of the benefits the CARES Act provided (such as direct stimulus payments and extending UI benefits), but with some major changes. Notably, one side was pushing for a significant reduction in weekly UI benefits from $600 to $200 a week. The other side, however, did not want to budge on the $600 FPUC benefit, but some argue that the FPUC benefit encourages recipients not to work, because in some cases, it is more than some individuals' weekly income pre-COVID-19 pandemic. The HEALS Act would have also allocated $2 billion to states to assist in upgrading UI systems and $20 billion for the U.S. Department of Agriculture to continue response efforts.