In honor of Women's History Month, which begins today, March 1, we will be sharing a series of posts this month highlighting women in technology and their important work and contributions to the industry. Our first spotlight is on Katherine Johnson, an instrumental contributor to the success of the space program.
Many people have read and/or seen Hidden Figures, a 2016 book and 2017 film that told the stories of Katherine Johnson, Dorothy Vaughan, and Mary Johnson and their work as "computers" at NASA during the early days of the space program.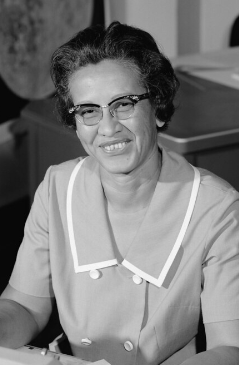 Katherine was born in West Virginia in 1918. Greenbrier County, where she was born, did not offer public schooling for Black students past eighth grade. Because of her strong mathematic skills, Katherine and her siblings attended high school in Institute, West Virginia. Katherine graduated from high school at 14 and then enrolled at West Virginia State College. After graduation, she taught math for a time, before being hired by the National Advisory Committee for Aeronautics (NACA), the predecessor to NASA. She worked as one of a pool of women "computers" who performed math calculations as needed. Katherine's knowledge of analytic geometry impressed the white, all-male flight research team and they decided to keep her permanently.
Katherine's talents did not go unnoticed. When NASA began to use their first electronic computers, officials in NASA asked Johnson to verify the computer's accuracy. John Glenn refused to fly unless Katherine herself verified the calculations. Her work on backup procedures and charts for the astronauts assisted significantly in getting the Apollo 13's crew back to Earth when the mission was aborted.
She continued to work at NASA, including the Space Shuttle program, and the plans for a mission to Mars.
Until her death in 2020 at 101 years old, she continued to advocate for women and Black students to pursue degrees in science and technology. She was inducted into the National Women's Hall of Fame in 2021. Appropriately, in addition to two buildings at NASA, several schools have been named in her honor. We celebrate the instrumental and impressive work that Katherine contributed to technology during her lifetime.