The Vancouver area has grown rapidly in the past decade and this growth has increased the demand for housing, however the supply is struggling to keep up. This in turn has led to higher rents and higher home prices, leaving a dearth of affordable housing options for those who need it.
One way the City of Vancouver has worked to ease the strain is with the adoption of the Multi-Family Tax Exemption (MFTE) program, authorized by RCW 84.14 and VMC 3.22. Currently, the program gives 8-, 10-, or 12-year tax exemptions for the new construction or rehabilitation of residential units in Vancouver City Center and the Fourth Plain Corridor. The two types of projects eligible for this exemption are 1) developments where at least 20 percent of the units are restricted to a certain income level, and 2) developments with market-rate units that include a 25 percent contribution of the expected tax exemption amount to public improvements such as art, landscaping, infrastructure, or sustainability measures.
After examining the effectiveness of the MFTE program and the changing demands on the Vancouver housing market, the city is now looking to update the program to simplify the process for developers and encourage more affordable housing development. Specifically, the proposed changes would expand eligible target areas and streamline the options for development.
The project options are similar in that a development with only market-rate units in a target area can get an 8-year tax exemption by paying a fee instead of tax—however now it will only be used for affordable housing production (as opposed to art, infrastructure, etc). The fee will either be 25 percent or 50 percent of the expected tax exemption amount depending on whether the project meets or exceeds density requirements in that target area. For income-restricted projects, a 12-year tax exemption is available for developments that offer 20 percent of units to be affordable for households earning 80 percent of the area median income throughout the exemption period.
This table summarizes the various options available for an exemption and provides the new target areas: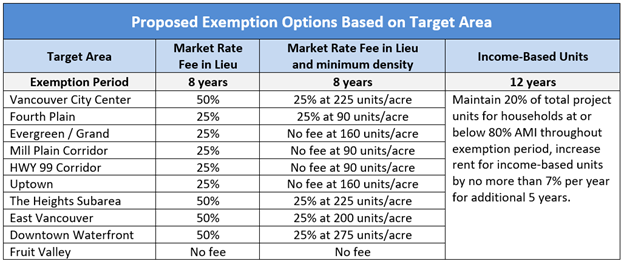 Again, this is only a proposal at this stage. The public can review the draft program manual and target area map and submit comments here.
The Economic Prosperity & Housing team will incorporate feedback and refine the proposed changes this spring with the hopes of presenting the final proposal to the Vancouver City Council this summer. As such, anyone with feedback should aim to get it in sooner rather than later. Lastly, developers should keep the MFTE program in mind when seeking to accommodate new and old community members in Vancouver.
This article is provided for informational purposes only—it does not constitute legal advice and does not create an attorney-client relationship between the firm and the reader. Readers should consult legal counsel before taking action relating to the subject matter of this article.