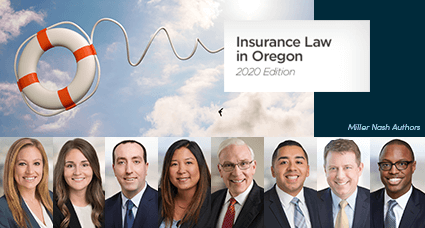 The Oregon State Bar has announced the upcoming release of its newest comprehensive resource, Insurance Law in Oregon 2020 Edition. An interdisciplinary team of Miller Nash attorneys was privileged to have authored and co-authored several chapters in this edition, which has been reorganized and updated with 12 chapters covering new subject matter never before included. Authors explain the fundamental issues of insurance law, such as interpreting policy language and the insurer's duty to defend, settle, and pay. In addition, they address cutting edge issues, such as cyber and privacy insurance and employment practices liability insurance.
Attorneys from the firm's insurance coverage, construction, and commercial litigation teams provide insight from their experience and depth-of-knowledge of insurance issues across industry sectors. The firm's insurance coverage team is led by Seth Row, who also served on the OSB publication's Editorial Review Board. Miller Nash authors include Iván Resendiz Gutierrez (Chapter 2: Reading, Understanding, and Interpreting Insurance Policies), Shanelle Honda (co-author, Chapter 16: Duty to Defend, Settle, and Indemnify), Andrew Guess and James Walker (Chapter 25: Construction), Katelyn Fulton and Erica Clausen (Chapter 26: Cyber Insurance), and Frank Langfitt (Chapter 28: Directors and Officers Insurance).
To read more about the publication, and to pre-order, visit the Oregon State Bar website.