On August 26, 2022, EPA issued its long-awaited notice of proposed rulemaking to designate two commonly used per- and polyfluoralkyl substances (PFAS)—i.e., PFOS and PFOA, including their salts and structural isomers—as "hazardous substances" under CERCLA. This Proposed Rule has been designated as economically significant, meaning that the Office of Management and Budget expects compliance costs to exceed $100 million. That number, however, may be on the low end, as the U.S. Chamber of Commerce has suggested that the proposed designation would cost businesses as much as $800 million annually.

This Proposed Rule is historic in nature, as it is the first time the EPA used its authority under CERCLA § 102(a) to designate a particular substance as a hazardous substance. The Proposed Rule will, among other things, impose reporting requirements for releases of PFOA and/or PFOS above 1 pound or more in a 24-hour period and will expose countless entities to CERCLA liability for these two chemicals. The Proposed Rule is likely to be published in the Federal Register in the next few weeks, thereby triggering a 60-day comment period.
Notably, this Proposed Rule may not be the last time EPA exercises CERCLA § 102(a) authority. In the Proposed Rule, and consistent with EPA's PFAS Strategic Roadmap, EPA notes it is developing an Advance Notice of Proposed Rulemaking to seek comments and data for use in determining whether to designate other PFAS as hazardous substances under CERCLA.
PFOS/PFOA
As we have previously reported on, PFAS are a group of thousands of chemicals that have been in use by a variety of industries since the 1940s for their ability to resist heat, oil, stains, grease, and water. Also known as "forever chemicals" due to their persistence and mobility in the environment, PFAS exposure may lead to a number of adverse health effects. PFOS and PFOA are two of the most commonly studied PFAS chemicals, and may be found in numerous consumer goods, construction supplies, emergency equipment, manufacturing processes, water treatment facilities, and landfills.

THE PROPOSED RULE AND ITS EFFECTS
The Proposed Rule will have both direct and indirect effects on regulated entities with the indirect effects likely being substantially more costly than the direct.
Direct Effects


Under CERCLA § 103(a), an owner or operator of a vessel or an offshore or onshore facility will be required to report any release of PFOS and/or PFOA at or above the reportable quantity (RQ) of 1 pound or more in a 24-hour period.
Under CERCLA § 120(h), in certain circumstances, federal agencies selling or transferring real property will have to provide notice of the presence of hazardous substances and a warranty that "all remedial action necessary to protect human health and the environment with respect to any [hazardous substances] remaining on the property has been taken before the date of such transfer, and any additional remedial action found to be necessary after the date of such transfer shall be conducted by the United States."
Under CERCLA § 306(a), DOT will be required to list and regulate PFOA and PFOS as "hazardous materials" under the Hazardous Materials Transportation Act.


Indirect Effects


EPA and other agencies exercising delegated CERCLA authority will be able to respond to PFOA and PFOS releases and threatened releases without making the higher threshold finding of "imminent and substantial danger" that is currently required for responses.
EPA and delegated agencies will be able to require potentially responsible parties to address PFOA or PFOS releases that pose an imminent and substantial endangerment to public health or welfare or the environment.
EPA and delegated agencies could recover PFOA and PFOS cleanup costs from potentially responsible parties, to facilitate having polluters and other potentially responsible parties, rather than taxpayers, pay for these cleanups.
Private parties that conduct cleanups that are consistent with the National Oil and Hazardous Substances Contingency Plan (NCP) could also recover PFOA and PFOS cleanup costs from potentially responsible parties.
These indirect effects are likely to be the most consequential part of the Proposed Rule because they will expose countless entities, including your local water treatment facility and airport, to possible liability. Although EPA claims it "will use enforcement discretion and other approaches to ensure fairness for minor parties who may have been inadvertently impacted by the contamination," that is no guarantee of future action and does not limit the EPA's discretion. Nor does it limit private causes of action under CERCLA §§ 107(a) and 113(f). As such, once the Proposed Rule becomes final, regulated entities should be mindful that they may be subject to future liability and the possibility of reopening superfund sites.
AFFECTED ENTITIES
The Proposed Rule is likely to affect five broad categories of entities: (1) PFOA and/or PFOS manufacturers (including importers and importers of articles); (2) PFOA and/or PFOS processors; (3) manufacturers of products containing PFOA and/or PFOS; (4) downstream product manufacturers and users of PFOA and/or PFOS products; and (5) waste management and wastewater treatment facilities.
More specifically, according to EPA, such entities may include the following non-exclusive list: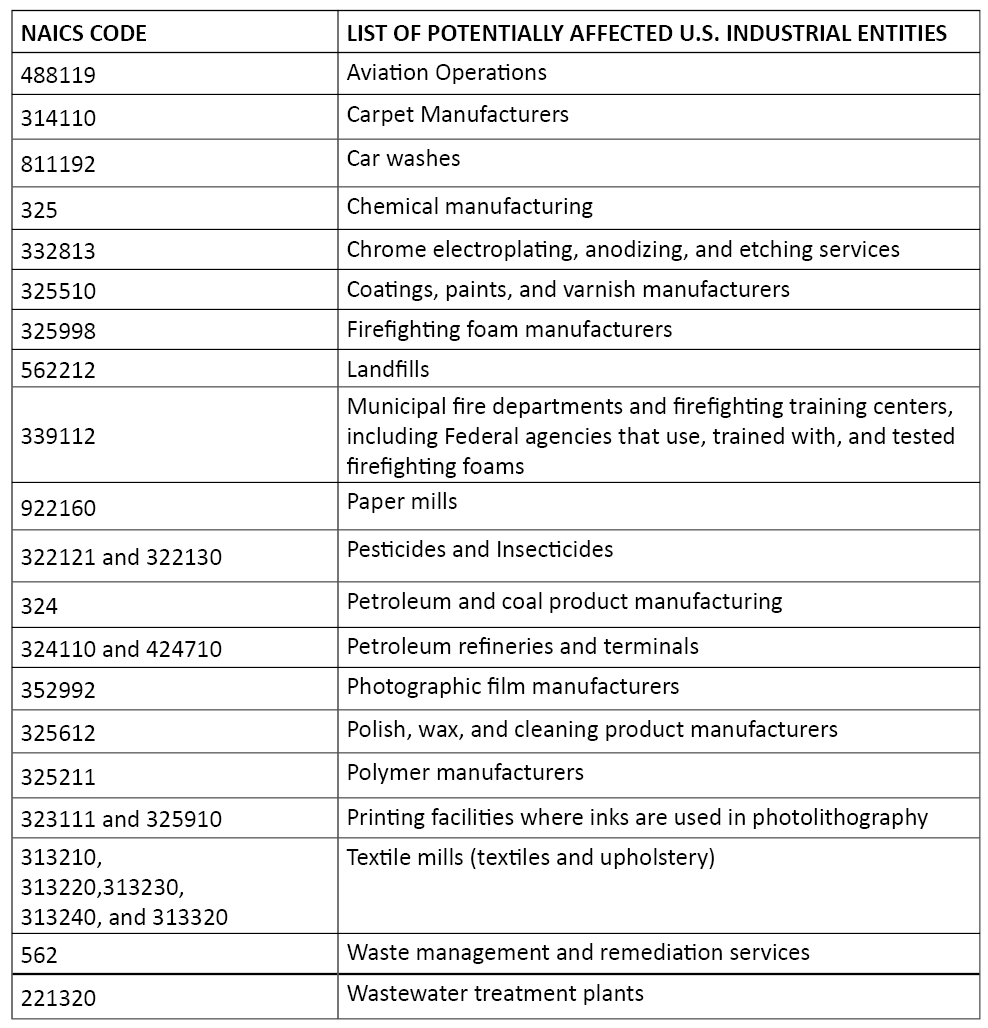 NEXT STEPS

In the next several weeks, EPA will publish the Proposed Rule in the Federal Register. Once published, the rule will be open for a 60-day comment period. After that, the EPA will move to finalize its proposal and to codify it in the Code of Federal Regulations. According to EPA's PFAS Strategic Roadmap, we should see a final rule in the summer of 2023.