Erin M. Burris
I take a thoughtful approach to my client's legal problems, making it a priority to get to know the organization to better understand its goals and mission when evaluating legal strategy. My dependability and enthusiasm for my work enables me to provide dedicated service and deliver a holistic and results-orientated approach to navigate my clients' complex legal issues.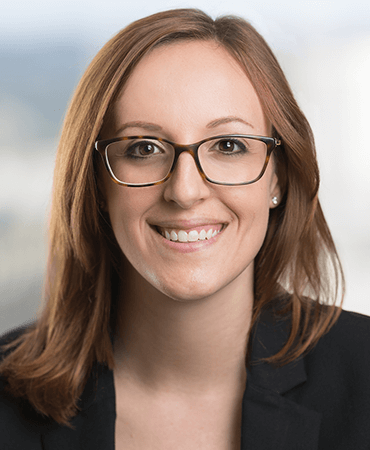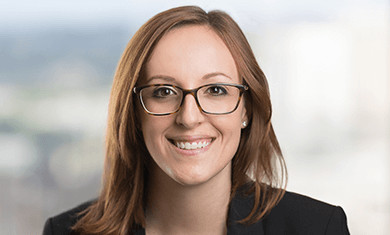 About Erin
Erin Burris is an attorney on Miller Nash's education team, representing higher education institutions, k-12 institutions, public school districts, and private schools. She defends education clients in litigation and advises on issues including student rights and discipline, Title IX of the Education Amendments, Individuals with Disabilities Education Act, Title VI of the Civil Rights Act, and an array of statutes affecting faculty and students. Erin's employment practice includes advice and litigation related to wage-and-hour, discrimination, retaliation, wrongful termination, and other tort claims.
Before joining Miller Nash, Erin worked as a staff attorney at the Learning Rights Law Center where she practiced education law, with a focus on special education matters and disability discrimination cases under the Individuals with Disabilities Education Act, Section 504 of the Rehabilitation Act, and the Americans with Disabilities Act. She also served as a judicial clerk to Justice Susan Owens of the Washington State Supreme Court, where she gained broad knowledge of Washington law through her work on a variety of civil and criminal cases.
Upon graduating from law school, Erin became a member of the Order of the Coif, an honor society that recognizes the top ten percent of graduating law students from their class. During law school, Erin practiced as a limited license attorney, representing the State of Oregon at the Oregon Department of Justice in its Trial Division and worked on a variety of matters at a general civil litigation law firm. She also gained valuable experience as an extern to the Honorable Judge Ann Aiken of the U.S. District Court of Oregon.
Show More
Show Less
Representative Experience
Activities
Professional

Plus
Oregon State Bar, Member
OGALLA—Oregon's LGBTQIA+ Bar Association

Board Member
Mentorship Committee Chair
Insights from Erin
"California Employer's Good-Faith Belief That Freelance Model Was Not an Employee Defeats Penalty Claims,"
Miller Nash, Employment Law in Motion, coauthor (Jun. 2022)
"Comply With Latest Protections Against Discrimination Based on Sexual Orientation, Gender Identity," College Athletics and the Law, coauthor (Apr. 2021)
"Four Quick Tips for Keeping Your Special Education Programs on Track Before School Year 2019-2020 Becomes a Distant Memory," Miller Nash Graham & Dunn, K-12 Education: News You Can Use (Apr. 2020)
"Be Prepared: ICE Immigration Enforcement Actions," Miller Nash Graham & Dunn, K-12 Education: News You Can Use (Aug. 2019)
"Know How to Handle Employee Protests, Refusals to Engage in Work" Campus Legal Advisor, coauthor (Feb. 2019)
"No Whammies: Don't Press Your Luck on Wage and Hour Issues," Miller Nash, Employment Law Seminar (Oct. 2023)
"A Day in the Life: Legal Opportunities, Challenges, and Unknowns for Supporting Gender Diverse Students," Coalition of Oregon School Administrators, Equity Summit (Sept. 2023)
"Beyond the Gender Binary: Legal Implications and Practical Guidance for Navigating Student Gender-Identity Issues," Confederation of Oregon School Administrators, 42nd Annual Oregon School Law Conference, copresenter (Dec. 2022)
"When Crisis Comes Knocking," Confederation of Oregon School Administrators, 42nd Annual Oregon School Law Conference, copresenter (Dec. 2022)
"Hop on the Bullet Train: Hiring and Retention Considerations in a Fast-Paced Employment Market," Miller Nash, Employment Law Seminar (Oct. 2022)
"The Risks Hybrid Models Pose for Employers," Miller Nash, Employment Law Seminar (Dec. 2021)
"Religious Freedom—Beyond Vaccines and Masks" Coalition of Oregon School Administrators (COSA), 41st Annual School Law Conference (Dec. 2021)
"Equity Opportunities With the Passage of House Bill 2001 Permitting Consideration of Cultural or Linguistic Expertise in Layoffs," Oregon School Personnel Association, 2021 Fall Summit, co-presenter (Oct. 2021)
"Managing a Build from a Distance: Hearings in the Remote Environment," Miller Nash Graham & Dunn, Employment Law Seminar (Dec. 2020)

"Before and After Fixer-Upper Reveals: 2020 Federal Employment Law Update," Miller Nash Graham & Dunn, Employment Law Seminar (Dec. 2020)

"No Major Renovations: 2020 Oregon Employment Law Update," Miller Nash Graham & Dunn, Employment Law Seminar (Dec. 2020)
"Student Mental Health Issues During COVID-19," Confederation of Oregon School Administrators, 40th Annual Oregon School Law Conference (Dec. 2020)
"Activism, Racial Justice, and Its Impact on Legal Issues Concerning Employees," Confederation of Oregon School Administrators, 40th Annual Oregon School Law Conference (Dec. 2020)
"Investigations: Tips and Traps for Managing and Conducting Effective Investigations," Confederation of Oregon School Administrators, Oregon School Law Conference (Dec. 2019)

"Course Corrections Ahead: An Update on New Laws to Avoid Running Aground," Miller Nash Graham & Dunn, Employment Law Seminar (Oct. 2019)
"Bracing for the Plot Twist: HR's Role in Crisis Management," Miller Nash Graham & Dunn, Employment Law Seminar (Oct. and Nov. 2018)
"Understanding Compliance Complaints and Due Process," (May 2018)