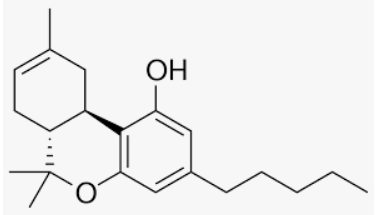 In the first federal appellate ruling on delta-8 THC, the Ninth Circuit Court of Appeals deemed the substance legal—at least for purposes of trademark protection—concluding that if "Congress inadvertently created a loophole legalizing vaping products containing delta-8 THC, then it is for Congress to fix its mistake." AK Futures LLC v. Boyd St. Distro, LLC, No. 21-56133, 2022 WL 1574222 (9th Cir. May 19, 2022).

While the ruling is a win for those seeking trademark protection for hemp-derived products, the ruling should not be viewed as an unlimited license to possess, manufacture, or sell delta-8. As discussed below, the limitations of the case are equally important.
It Starts With Science
Because the legality of delta-8 is the crux of the dispute, the court started its analysis with the chemistry context of delta-8 THC (tetrahydrocannabinol). Delta-8 is one of hundreds of chemical compounds, or cannabinoids, found in the plant cannabis sativa L. The most familiar cannabinoid is delta-9 THC—a psychoactive compound naturally-occurring in the cannabis plant, which produces the "high" commonly associated with cannabis.
Another familiar cannabis compound is CBD (cannabidiol), which does not have psychoactive qualities. Under the 2018 Farm Bill (a/k/a the Agriculture Improvement Act of 2018), cannabis products with not more than 0.3% delta-9 THC are removed from the federal Controlled Substances Act (CSA). This exemption would include CBD (unless integrated into a product with more than 0.3% THC).
Like its cousin delta-9 THC, delta-8 THC can elicit a euphoric effect when taken in sufficient quantities. But because delta-8 naturally occurs in tiny amounts, it cannot be economically extracted from the plant alone. Instead, delta-8 is converted from CBD in a lab using solvents and acids. It is then used in vape and edible products.
In September 2021, the DEA issued a non-binding opinion letter on delta-8 to the Alabama Board of Pharmacy, opining that synthetically-produced tetrahydrocannabinols are illegal and not exempt under the Farm Bill. The quandary with this guidance is that "synthetic" is undefined, so it invites the question confronted by the Ninth Circuit: whether delta-8 converted from CBD extracted from hemp is considered synthetic (and illegal) or a hemp-derived substance (and legal).
The Ninth Circuit Says?
The plaintiff, AK Futures, is a manufacturer and distributor of delta-8 vaping products under the "CAKE" trademark, a logo form of which AK Futures registered with the U.S. Copyright Office as a piece of artwork. AK Futures also has pending federal trademark applications on various CAKE and related word and design marks for a variety of goods and services. AK Futures brought federal claims of copyright infringement under the Copyright Act, and unfair competition and false designation under Section 1125 of the Lanham Act against Boyd Street, a retail smoke shop. AK Futures alleged that Boyd Street was not an authorized retailer and was selling counterfeit versions of its delta-8 CAKE products, in violation of AK Futures' federal common law trademark rights in its CAKE marks and its registered copyright.
After AK Futures sought a preliminary injunction prohibiting further reproduction or sale of the delta-8 products, the district court granted the injunction on the basis that AK Futures had shown a likelihood of success on both its copyright and trademark claims. The Ninth Circuit affirmed.
The Ninth Circuit's analysis began with federal trademark law. One of the benefits of federal trademark protection is a presumption that a registered mark is valid and protectable. That presumption, however, is not available to unregistered marks such as AK Futures' CAKE marks. Absent that presumption, AK Futures was required to show that its CAKE marks were valid and protectable to prevail.
This requirement led to the "key disagreement" on appeal: whether AK Futures' use of the CAKE marks on its delta-8 products was lawful. Only lawful use of a mark in commerce can give rise to trademark priority, which is rooted in practical policy considerations: to prevent "the absurd result of the government 'extending the benefits of trademark protection to a seller based upon actions the seller took in violation of that government's own laws.'"
Boyd Street argued that the possession and sale of delta-8 THC is illegal because delta-8 products are often made using a "chemical process," and thus, are "synthetically derived." Quoting the DEA's Alabama Board of Pharmacy letter, the Ninth Circuit concluded that delta-8 is "a tetrahydrocannabinol substance contained in the [cannabis] plant" as well as a "material" derived from the cannabis plant. Thus, on the record before it, the court found that AK Futures' delta-8 products "fit comfortably" within the statutory definition of hemp.
The Takeaway for Cannabis Operators
The Ninth Circuit opined that the plain meaning of the Farm Bill exempts from the CSA a "wide variety of potential substances and products" sourced from the cannabis plant, including "all derivatives, extracts, [and] cannabinoids" with not more than 0.3% delta-9 THC. This ruling could be extrapolated to apply to products made from other cannabinoids derived from the cannabis plant, including the intoxicating molecule delta-10 THC and non-intoxicating cannabinoids CBG and CBN.
Despite the Ninth Circuit's broad conclusion, other federal courts are at liberty to disagree. Further, the ruling does not address the legality of delta-8 products outside of the intellectual property context. While courts have found that the Lanham Act preempts contrary state laws for trademark purposes, state (and local) law still governs the manufacture and sale of cannabis products. Delta-8 is banned in numerous states, restricted in some, and treated like delta-9 in others. Thus, the reach of the Ninth Circuit's conclusion may not extend far beyond its federal intellectual property bubble. And despite being exempt from the CSA, CBD and delta-8 are subject to the FDA's purview, and the FDA has issued warning letters to companies for selling both types of products as unapproved food additives, making improper health claims about their effects, or otherwise misbranding the products.
Given this backdrop, businesses involved with delta-8, CBD, and other minor cannabinoids should continue to invest in protocols and consult with experienced counsel to ensure compliance with the ever-changing patchwork of federal, state, and local laws and regulations.