Today the Supreme Court of Washington issued a decision finding a contractual one-year limitation period in a construction contract unconscionable. The decision—Tadychs v. Noble Ridge—arose from the construction of a custom house. The contractor, Noble Ridge Construction, placed a one-year limitations clause into its construction contract with its customers, the Tadcychs. The clause purported to waive any claim for construction defects not brought by the Tadychs within one year of completion or occupancy, whichever was earlier. The Tadychs brought claims against Noble Ridge after this one-year period, and their claims were dismissed on summary judgment. The Washington Court of Appeals upheld the trial court's dismissal. The Washington Supreme Court accepted review and reversed, finding that that the one-year limitations period was unconscionable. A key excerpt from the decision is set forth below: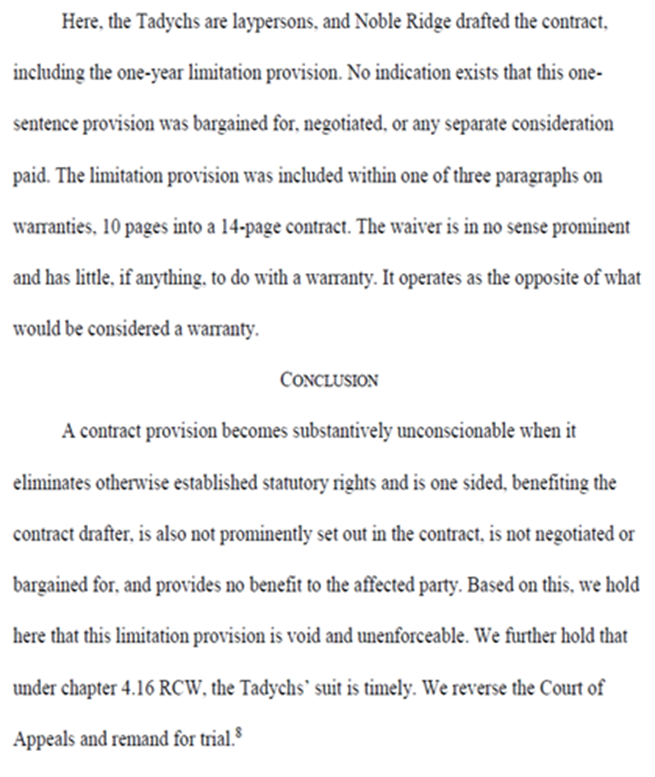 As a result of the Tadychs v. Noble Ridge Construction decision, contractors, developers, and homebuilders will need to carefully reevaluate any of their contract provisions that attempt to significantly limit their customers' statutory or common law rights. At a minimum, Tadychs v. Noble Ridge underscores the importance of emphasizing any limitations clause in a contract, the potential benefit of separate consideration given for a limitations covenant, and the need for at least a recitation that the limitations provision was negotiated by the parties to the contract.
Miller Nash's construction & insurance recovery team is happy assist its partners in the construction industry in evaluating their construction contracts in light of the Tadachys v. Noble Ridge Construction decision.