Jeffrey A. Beaver is featured in the cover story of the most recent issue of Washington Super Lawyers Magazine. The feature recognizes Beaver for not only his legal work to advance regional access to transportation, but also his expansive, community-minded efforts and commitment to the cause of justice. The full article can be accessed here.
Washington Super Lawyers Magazine is published annually alongside the release of the company's top attorney lists.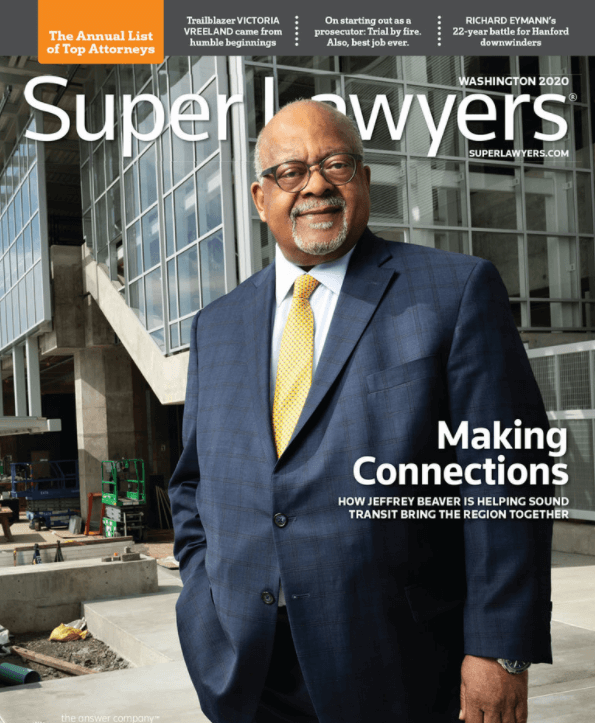 About Jeffrey A. Beaver
Beaver is a partner based in the firm's Seattle office. He has extensive experience as a trial lawyer and focuses his practice on condemnation, financial institutions, and commercial litigation. Beaver has represented clients in a variety of industries, including transportation, timberlands, financial services, and manufacturing.
Throughout his career, Beaver has been a leader in the legal community. In the spring of 2018, Beaver served on the King County Inquest Process Review Committee, formed by King County Executive Dow Constantine. He currently serves on the United States Magistrate Judge Merit Selection Panel, as a Washington State Bar Association Special Disciplinary Counsel, and on the Washington State Minority and Justice Commission. He also serves as a board member of Friends of the Children-Seattle, the Washington Leadership Institute, the University of Oregon School of Law Dean's Advisory Council, and the University of Oregon Foundation Board of Trustees. Early in his career, Beaver was a member of the Hirabayashi Coram Nobis team.
Beaver has been elected to the Fellows of the American Bar Foundation, elected as a Fellow of the American College of Trial Lawyers, and has been recognized by the NAACP Legal Defense and Educational Fund, Inc., as both an Earl Warren Scholar and a recipient of the John Warren Davis Award. In addition, he has been selected for inclusion in Washington Super Lawyers magazine since 2002. Beaver has been honored with a Lifetime Achievement Award from the Loren Miller Bar Association, as a Frohnmayer Award for Public Service award recipient from the University of Oregon School of Law, and selected for inclusion in The Best Lawyers in America in Eminent Domain and Condemnation Law and Litigation–Real Estate.
Beaver earned his bachelor's degree at Morehouse College before receiving his law degree from the University of Oregon School of Law. He served as articles editor for the Oregon Law Review. He served as a judicial extern to the Honorable Allen E. Broussard, California Supreme Court, 1984, and a law clerk to the Honorable Jerome Farris, U.S. Court of Appeals, Ninth Circuit, 1985-1986. In the past two years, Beaver has been elected to the Counselors of Real Estate, an international organization of property professionals, and the American Law Institute, an organization producing scholarly work to clarify, modernize, and improve the law.
About Super Lawyers
Super Lawyers, a Thomson Reuters business, is a rating service that identifies outstanding lawyers from more than 70 practice areas who have attained a high degree of peer recognition and professional achievement. The annual selections are made using a rigorous multiphase process that includes a statewide survey of lawyers, an independent research evaluation of candidates and peer reviews by practice area. For more information about Super Lawyers, visit superlawyers.com.